100W 150W LED Schoenendoos Parkeerplaats licht
LED-schoenendooslamp maakt gebruik van materiaal van topkwaliteit, Philips 3030SMD 125lm / W, HBG Meanwell-driver staat garant voor een levensduur van 50000 uur, wij bieden 5 jaar garantie. IP65-classificatie, perfact voor parkeerterreinverlichting, bevestig op ronde / vierkante pool. Deze serie heeft 5 modellen: 75W, 100W, 150W, 200W, 300W, alles is ETL-beursgenoteerd, ETL-nummer 5008744, 150W is DLC4.2 goedgekeurd.
Belangrijkste kenmerken:
1. DLC 4.2, genoteerd op ETL, ETL-nummer: E5008744.
2. LM80, Philips LED's, 125lm / W, CRI> 83.
3. Meanwell HLG-driver, garandeer een echt 50000 uur levensduur, 5 jaar garantie.
4. IP65 rating, perfact keuze voor parkeerplaats, plaza verlichting.
5. Meerkeuze voor stralingshoek: type II, III, IV, V
6. Beschikbaar wattage: 75W, 100W, 150W, 200W, 300W.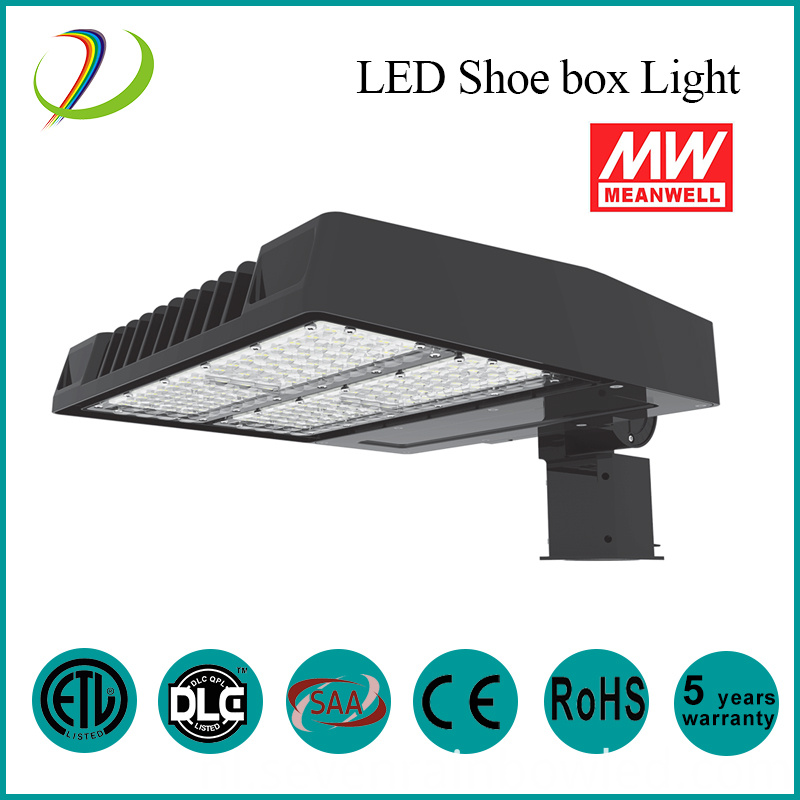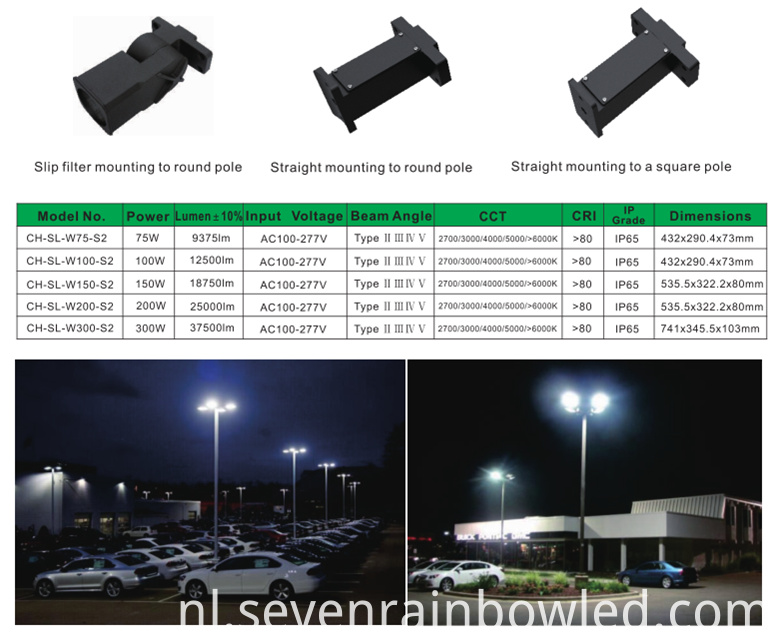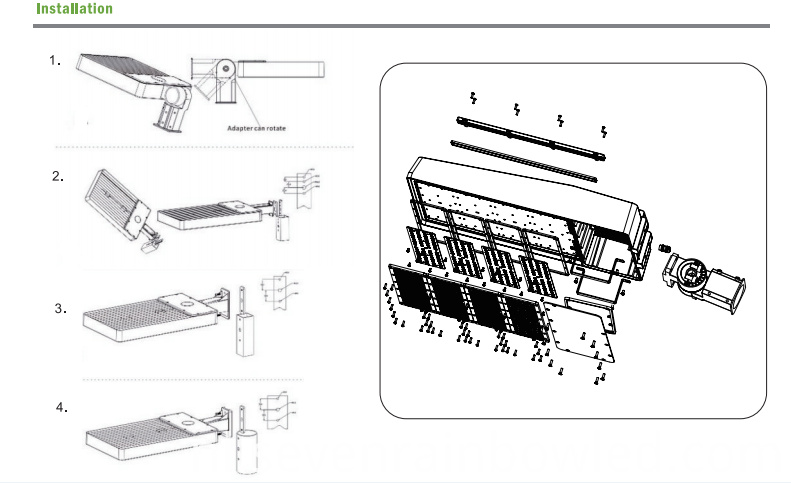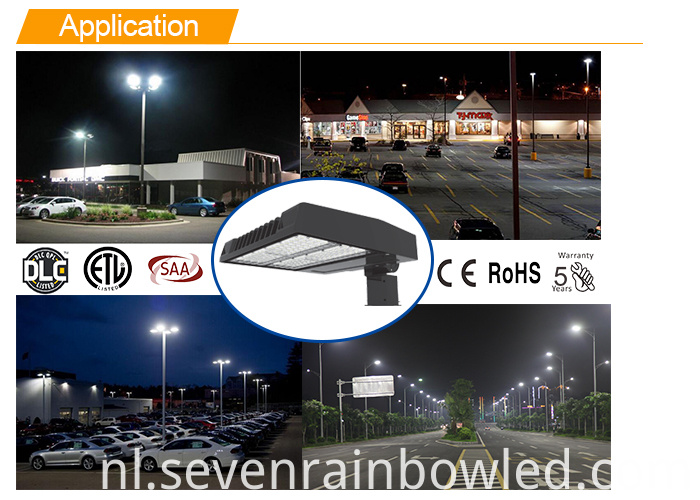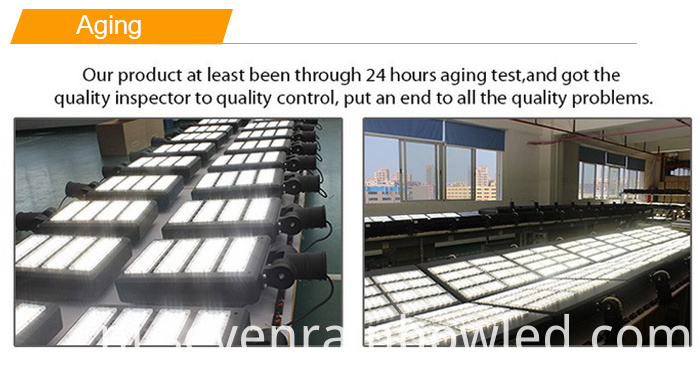 bedrijfsinformatie
Shenzhen Seven Rainbow Lighting is een gespecialiseerde fabrikant van LED-verlichting, onze belangrijkste producten zijn: LED maïs licht, LED-straatverlichting, LED 2G11 buis, LED 2G10 buis, LED G12, G8.5 LED-lamp, die allemaal UL, cUL, CE , RoHS gecertificeerd.
Sinds vorig jaar hebben we verschillende nieuwe items gelanceerd: LED linear high bay light, LED UFO high bay light, LED wall pack light, LED-luifellampje, LED tankstationlicht, LED-schijnwerper, wees alsjeblieft zo attent dat deze nieuwe product zijn DLC, ETL geverifieerd.
Om de kwaliteit te waarborgen, doen we 100% inspectie van grondstof tot verpakking, bieden wij 5 jaar garantie op onze producten na verkoop, als een LED-lamp defect tijdens de garantieperiode, sturen we onmiddellijk goed geteste producten aan klanten voor vervanging, of volledige restitutie voor de defecte led-lampen.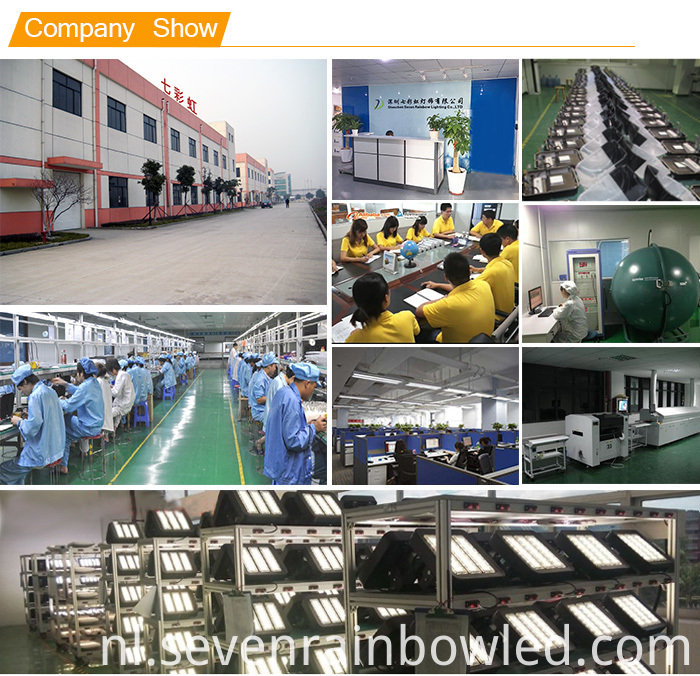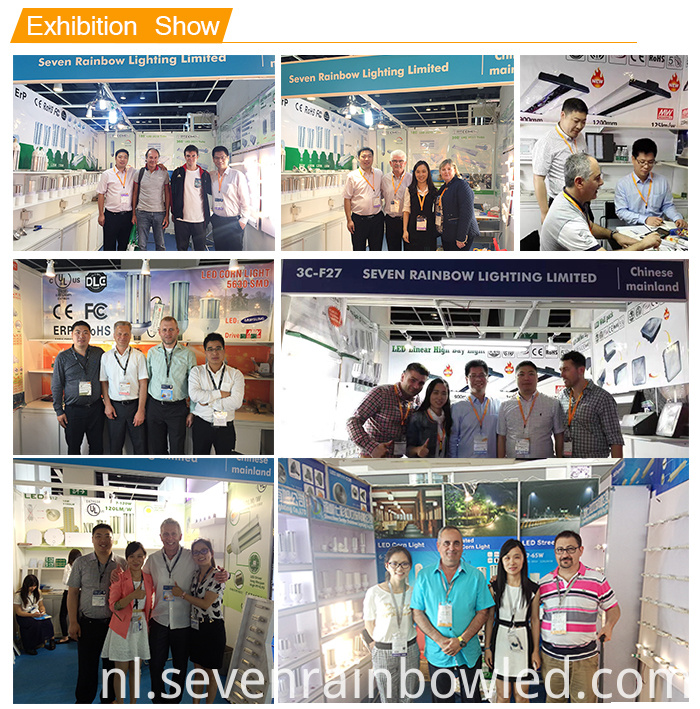 FAQ
Vraag 1: Ben je een fabrikant of een handelsonderneming?
Antwoord: wij zijn een fabrikant gevestigd in Shenzhen.
Vraag 2: Kan ik een voorbeeld van LED schoenendoos licht krijgen?
Antwoord: Ja, we verwelkomen u plaatst steekproef om de parameter te controleren.
Vraag 3: Wat is uw MOQ van LED-schoenendoos licht?
Antwoord: MOQ is 1 stuk.
Vraag 4: Kunt u mijn bedrijfslogo op de producten zetten?
Antwoord: Natuurlijk, laat ons weten hoe het u bevalt, en wij zorgen voor de rest.
Vraag 5: Hoe lang duurt het voor sample order & massavolgorde?
Antwoord: het duurt 3-7 dagen om voor monster orde, en ongeveer 10-15 dagen voor massa bestelling.
Vraag 6: Wat voor soort van LED-verlichting heb je te maken?
Antwoord: LED-maïs licht, LED-straat licht, LED 2G11 buis, G8.5 LED-lamp, LED 2G10 buis, LEIDEN G12, LED-lineaire hoogbouw licht, LED UFO hoogbouw licht, LED wall pak licht, LED luifel licht, LED-gas station licht, led-schijnwerper, 2G10 LED buis, LED G12 etc.
Vraag 7: Hoe zit het met de garantie?
Antwoord: Wij bieden 5 jaar garantie op LED-schoenendoos licht.
Product Categorie : LED Linear High Bay > LED Linear High Bay 100W